VoiceDRE is a Windows based voicing tool that gives complete tonal control of Westacott WinRanX Digital Ranks. The program installs easily onto Windows based PC's (running XP, Vista or 7) and through the use of industry standard MIDI ports, communicates with the instrument either locally or remotely to adjust all voicing parameters. The program works in real time so you can hear your voicing changes immediately.

See below a screenshot from 'VoiceDRE'. The example shows the adjustment of a ranks tone (the red sliders indicate the notes currently sounding & note #30 (F) that is being adjusted), to suit a buildings particular acoustical environment. Note that each yellow 'slider control' represents one note (for the rank being voiced, the green sliders are 'C's') on the instrument keyboard thus giving total flexibility for the ideal installation.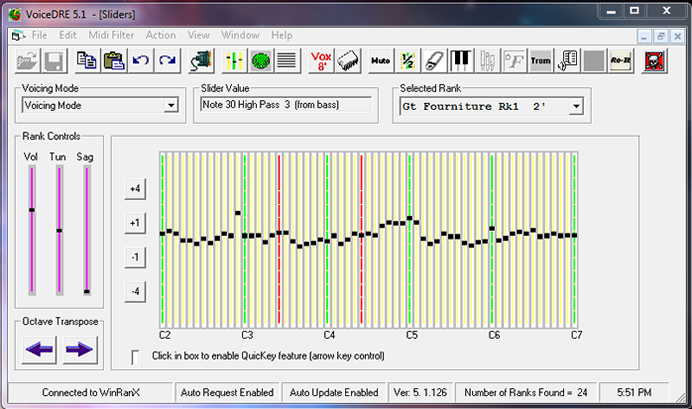 In addition to the voicing capability, VoiceDRE is also used for stop selction and to set up such items as tremulant parameters, zimbelsterns, expression, etc. as well as being a MIDI data viewer. VoiceDRE 5.0 & later also include powerful console diagnostic features (for Westacott control systems) that ensure quick isolation of wiring faults are detected.
A
udio
C
onverter -
I
nstrument
E
ditor -
M
usic
P
erformer
Use Awave Studio to quickly and simply create your WinRanX instruments. Awave Studio is a multi-purpose audio tool that reads a veritable host of audio carrying file formats from different platforms, synthesizers etc.

Download your copy from http://www.fmjsoft.com/awavestudio.html